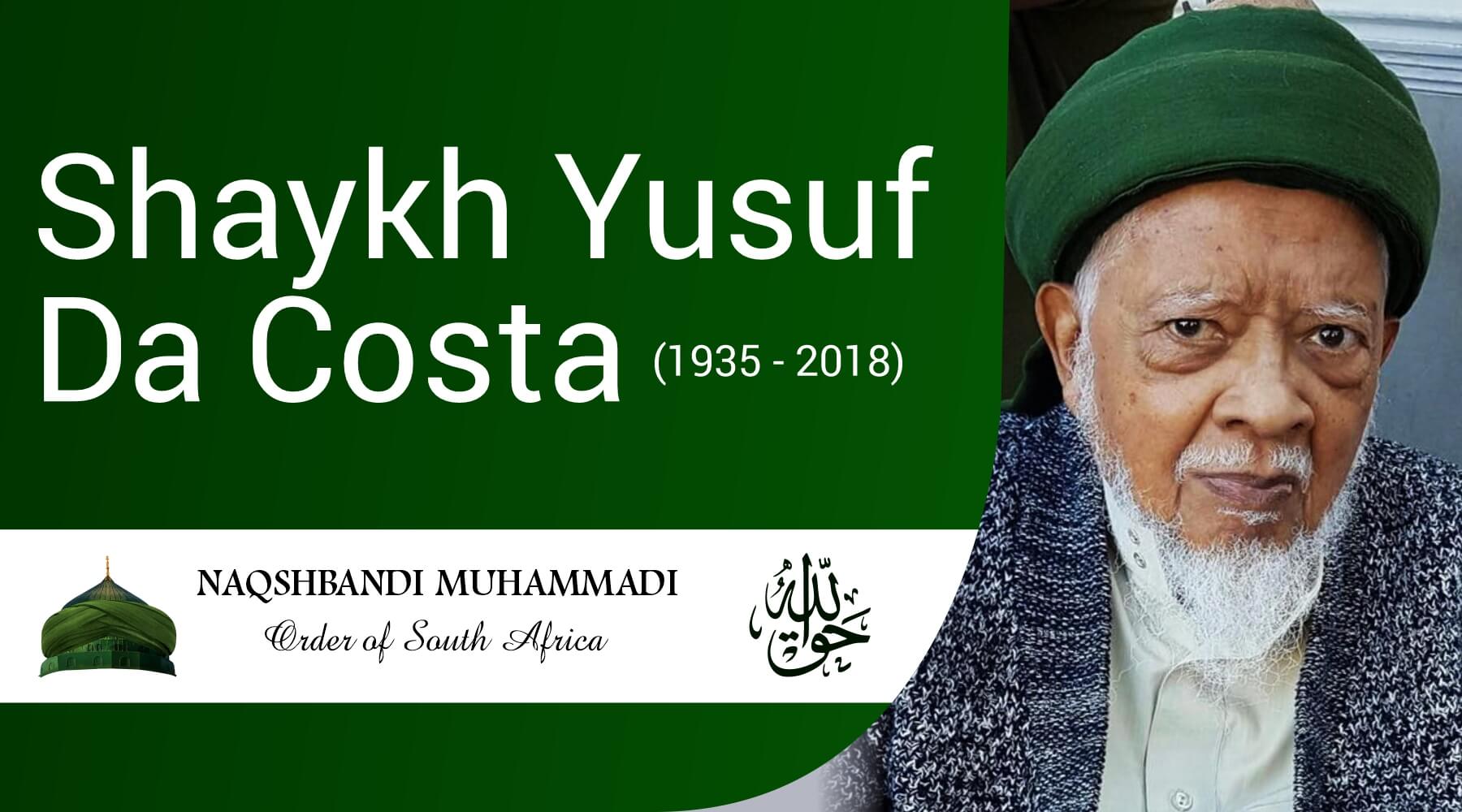 Born into a small working class suburb of Cape Town in 1935, Shaykh Yusuf da Costa has his origins in families, from both his parents' sides, who embraced Islam. His father and his mother's grandfather were reverts. He received his initial schooling at local church schools, matriculated from Trafalgar High School in 1952, and entered the teaching profession after a course in teacher training at Hewat Training College in Cape Town. While at the College, he became involved in anti-government politics.
While teaching at Salt River Muslim School, he completed a Bachelor of Arts degree with Geography and History as majors, and later moved to Livingstone High School where he taught senior History and Geography. At the same time, he commenced the study of Arabic. In 1976 he became principal of a high school, Crestway Senior Secondary, and in the meantime completed a B.A. (Hons), M.A. and D.Litt et Phil degrees, in the field of Geography. In 1987 he joined the Faculty of Education at the University of the Western Cape, teaching Geography Education and other modules in Education. At the time of his retirement in 1996, he was an Associate Professor and Head of the Department of Didactics in the Faculty.
Shaykh Yusuf da Costa has published on a variety of subjects including different aspects of Islamic thought, the history and sociology of the Muslim community in Cape Town, and Geography Education. Most of his time was spent teaching Islam to children and adults. He was, until the end of 2000, the rector at the Islamic College of South Africa in Cape Town and was regularly interviewed on the Muslim community radio stations, Radio 786 and Voice of the Cape.
Through Shaykh Hishām Kabbani, Mawlana Shaykh Nāzim appointed Shaykh Yusuf da Costa as his khalīfah in Southern Africa, in 1998. The khilāfat of Shaykh Yusuf da Costa and the visit to South Africa by Mawlana Shaykh Nāzim in 2000, sparked decades of remarkable growth of the Naqshbandi Order and its contribution to the promotion of Islam in Southern Africa.
Shaykh Yusuf da Costa passed away in Cape Town on 3 December 2018. His khilāfat was transferred to his son, Shaykh Shamiel da Costa.
"I have come to see Islam, not as a religion in the ordinary sense of the word, but as a means of approach to the Divine. And so, all my religious activities have become part of this approach, become part of my listening to the Call of Allah Almighty. Understanding Islam as the sacred because of its heavenly origins develops in one a deep sense of respect and regard for its teachings and practices, and a refusal to compromise, even in a small way, what comes from Allah."
Shaykh Yusuf da Costa